Secret Pal 11
Mood:
happy
Now Playing: Katie's singing
Topic: Secret Pal 11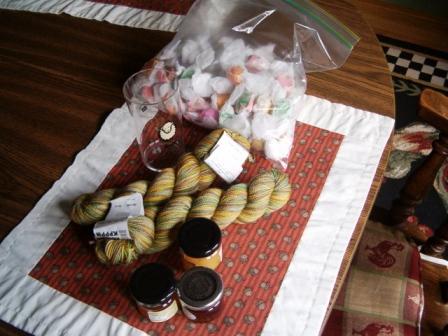 I received a wonderful package in today's mail from my Secret Pal. She sent me two skeins of Koigu which perfectly match my winter coat, jars of super flavors of jelly, a cute sheep glass, and Salt Water Taffy. I am a Taffy nut and so are the girls. I forgot to include in the picture a great tote she sent. It's green and has a matching smaller bag that fastens onto the side. I'll post a picture of it by itself. Thank you secret pal!!
Posted by knitamaniac at 4:02 PM EDT